ZOMDir (www.zomdir.com) is world's most flexible directory. Besides that is ZOMDir an ongoing project, which resulted in these useful tools.
This page describes in short the characteristics of the link directory.
World's most flexible directory
ZOMDir is combination of a link directory and an open wiki.
Hence everyone is able to add, edit or remove links. Adding a link requires only 3 steps.
Consider which link you want to add
Go to the page where you want to add the link
Click "Add the missing link" and enter the address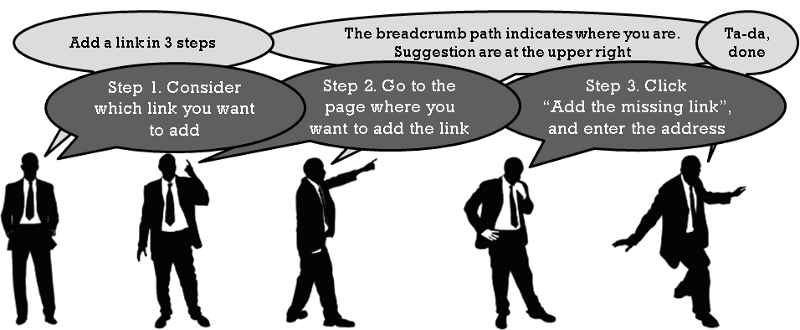 Automatically enforced guidelines
To prevent chaos some guidelines are automatically enforced. The main automatically enforced guidelines are:
only working links are allowed
redirected links are not allowed
each link has to be unique
only safe links are allowed
broken links are removed automatically
Unique links
The rule that only unique links are allowed prevents spam. ZOMDir can't be used to link multiple times to the same webpage.
The intended side effect is that everyone who adds a link first thinks carefully where that link should be.
Safe links
The rule that only safe links are allowed is inconsistent with ZOMDir's philosophy. The directory thedarksideof.zomdir.com solves this problem, because only 'unsafe' links are allowed in this direcory.
Directories and Search Engine Optimization
In general directories have a bad reputation for Search Engine Optimization.
The main reason is that a lot of link directories contains:
unrelated links at the same page
a lot of affiliate links and ads
a lot of broken links
So think before you add a link. Your link should be at a page which is helpful for the users.
One link at a page isn't helpful
A linkpage with unrelated links isn't helpful
Knowing more?
For more information regarding the directory ZOMDir follow one of the following links:
You can try out how ZOMDir works in the specially set up website try.zomdir.com.
Don't hesitate to contact me if you want more information regarding ZOMDir.
Best regards,
Hans